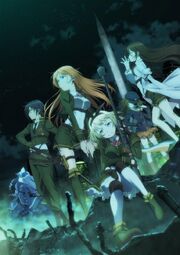 Taimadou Gakuen 35 Shiken Shoutai (対魔導学園35試験小隊 AntiMagic Academy The 35th Test Platoon) is a Japanese animated adaptation of the light novel, Taimadou Gakuen 35 Shiken Shoutai. The TV series is directed by Kawamura Tomoyuki and written by Shimoyama Kento.[1]
An announcement was made that the anime would air from October 8, 2015 to December 23, 2015 by studio Silver Link.
The 35th Test Platoon of Antimagic Academy, they're one of squads enrolled at academy specializing in raising the witch hunters, whose job is to find, neutralize any magical threats! Unfortunately they're a group of failures nicknamed "Small Fry Platoon," a platoon formed from bunch of self-centered people who can't cooperate and have personality problems. Will they manage to overcome their weaknesses and shine as the strongest platoon?
Episodes List
Edit
Main article: List of Episodes
Staff 

︻デ═一

Edit
Original Work - Yanagimi Touki
Original illustrations - Kippu
Directed by - Kawamura Tomoyuki
Series Configuration -Shimoyama Kento
Character Design - Kawamura Kosuke
Animation Production - SILVER LINK.
Opening Theme Song - "Afilia Saga"
Ending Theme Song - "Ito Kanako"
Cast 

︻デ═一

Edit
Refer to main article: Anime Music
References
Edit
Official Links
Edit